ARCHER-FISH by Tom Seagard © Copyright Seagard 2003
Limited edition, signed and numbered, giclee on linen, reproductions.
The portrait depicts IJN SHINANO fading into darkness and obscurity while
USS ARCHER-FISH sails into the brightness of a unique and successful 25 year Naval career.
Painting Information:
ARCHER-FISH BY TOM SEAGARD
This specially commissioned painting and limited edition reproduction run marks the 60th anniversary
of Archer-Fish's Keel Laying and 35th anniversary of the end of service to her Country.
Reproduction is a giclee* on linen, using a Mimaki press, by Old World Editions, Chris Foley, Alexandria, Virginia,
1-703-684-0005
Limited Numbered Edition run is 500, each signed by artist Tom Seagard
Image size is 15" x 38 1/4" horizontal, ready for framing.
* What is a giclee reproduction?
Original painting was created using mixed media on fine drawing paper, mounted on acid free board.
© Copyright Seagard 2003
Painting Detail:
Ordering Information:
NOTE: New, unnumbered and smaller sized reproductions of this painting are now available. The new reproductions are 14" x 22" and are priced at $125.00 (US). You can also purchase a framed version for $350.00 (US). Contact George Hughes at (920)839-9247 or via e-mail for information or ordering. (5/27/04)
The following information regards the original offering for the Limited Edition, Numbered reproduction - Some copies still available - (5/27/04)
Unframed: $225.00 (US)
Framed with Larson Juhl x-1572 matte and Larson Juhl 444CS Silver frame: $500.00 (US) (Framed size is 21 ½" x 42 ½")
Prices include shipping and handling within the Continential US.
Additional shipping charges may apply, outside Continental US.
Order from: George Hughes, 9589 North Bay Drive, Baileys Harbor, WI 54202
Ordering and shipping questions should be directed to George Hughes via e-mail or US Mail.
Profits from sales will be donated to the Save the USS RAZORBACK Fund.
The Artist: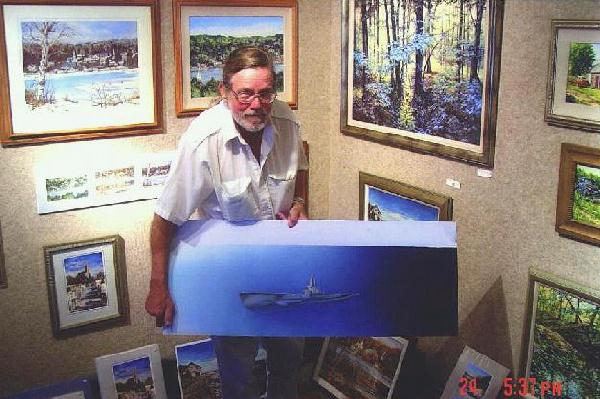 Tom Seagard is a mixed media artist. His subjects vary from wildlife to Indian images, but all of his work goes beyond the surface in his capacity to portray the unique and individual character and strengths of the subjects he sees.
His work also includes images from Door County, Wisconsin, the Caribbean, Key West, and South America.
The fieldwork is extensive, but it enables Tom to record and interpret these subjects with caring and precision. His medium and methods include using traditional art materials but extends to spray enamels, industrial paint and products, as well as more commonplace things like coffee grounds.

Tom graduated with a Bachelor of Fine Arts Degree from the University of Wisconsin Milwaukee with a double major in painting and graphics. He has been a professional artist since age 19. (reprinted from Artist's website)
Door County (WI) Compass Article
Tom Seagard's tribute to the Silent Service
ARCHER-FISH Story:
ARCHER-FISH joined the war against Japan in September of 1943. On her fifth patrol she crossed paths with the 72,000 ton IJN aircraft carrier SHINANO, and placed six torpedoes into her hull sending SHINANO to the bottom, sinking the largest ship ever sunk by a submarine. She was awarded the Presidential Unit Citation for this feat and later was selected as one of twelve American submarines to participate in the invasion force that entered Tokyo Bay to witness the formal surrender of Japan.
ARCHER-FISH's career after WWII, spanned over two decades of training future submariners, training sailors in our and our allies Navies in Anti Submarine Warfare, and was assigned sole responsibility for OPERATION SEASCAN, an eight year special operation to gather data vital to our Nuclear Deterrent Forces during the Cold War.
Following decommissioning on May 1, 1968, she ended her career on October 17, 1968, while serving as a target for torpedo weapons testing by USS SNOOK .
Further information about ARCHER-FISH and her crews may be found at www.ussarcherfish.com.
Webpage: © Copyright - G. L. Cornelison / USSARCHERFISH.com - 2003
Painting: © Copyright - Seagard - 2003