"Doc" Carter Remembers Captain Joe
and Archer-Fish

Leo A. "Doc" Carter, HMC(SS) sailed on Archer-Fish during War Patrols # 6 & 7.
See more about Doc on the Archer-Fish History Page, especially his story
about how he became part of the Archer-Fish Crew.

"Click" on any image to see a larger picture.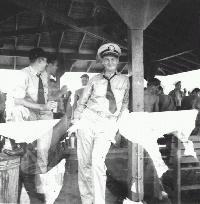 Capt. Joe as most of us remember him. An extremely down to earth person.
I think this was taken at a beer ball game just after we got back to Pearl. Joe was in cap and tie, and Dave Bunting, the XO, on Joe's right was in a tie also.
The crewman just over Joe's right shoulder is "Cactus" Yotter TM1 who died many years ago. Doc
This was taken the day before the signing of the peace treaty. As the senior skipper Joe got inboard in the nest. Doc
Official Navy photo from Tokyo Bay during the Surrender of Japan.
Archer-Fish is first Boat, starboard side of the Proteus.

Starboard side Boats: Archerfish (SS311), Muskallunge (SS262), Cavalla (SS244), Razorback (SS394), Haddo (SS255), Segundo (SS398)
Port side Boats: Runner (SS476), Gato (SS212), Seacat (SS399), Pilotfish (SS386), Tigrone (SS419), Hake (SS256)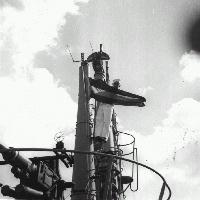 This is the Presidental Unit Citation awarded the boat when we returned to Pearl. There was no wind so the COB detailed a S2c to stand in the shears and hold it out. Doc
Copyright © 2000 ussarcherfish.com
Last revised: November 10, 2000.