ARCHERFISH History - 1943 to 1968
(Scroll to the bottom of this document to find additional Archer-Fish WWII history, pictures & links.)
The History of the U.S.S. ARCHERFISH (SS/AGSS-311)
As-Built Specifications:
Class: BALAO
Length: 311'10"
Beam: 27'4"
Diameter: 15'3"
Displacement: 1526 tons surfaced, 2391 tons submerged
Complement: Six officers, sixty enlisted.
Depth: 400'
Speed: 20.25 knots surface, 8.75 knots submerged.
Armament: Ten 21" torpedo tubes, 24 torpedoes, One 5"/25, One 40 mm., Two .50 cal.
Main Engines: Four Fairbanks-Morse 9-cylinder, 5400 horsepower, diesel.
Fuel Capacity: 94,000 gallons.
Motors: General Electric E-11, 2740 horsepower.
Battery Cells: 252
---
Namesake: The Archerfish is a small toxotoid fish whose habitat ranges from India to the northeastern tip of Australia. This adept predator stuns it's prey by shooting a high pressure stream of water, knocking insects off twigs and branches, into the water and then devours its kill.
---
World War II Era - 1943 to 1946
The keel for USS Archerfish (SS-311) was laid at the Portsmouth Navy Yard, Portsmouth, N.H. on January 22, 1943.
The launching and christening took place on 28 May 1943. The sponsor of the ship being Miss. Malvina C. Thompson, secretary to Mrs. Franklin D. Roosevelt.
On 4 September 1943, the ship was placed in commission at Portsmouth, N.H. and LCDR. George W. Kehl, USN became the first commanding officer.
Training of the crew and trials for the ship took place in the Portsmouth-Newport-New London area until the first part of November, when the ship departed for the Panama Canal. After transiting the canal on 13 November 1943, the ship reported for duty to Commander Submarines, Pacific Fleet.
The ship arrived at Pearl Harbor, Territory of Hawaii on 29 November 1943, and after more training departed for the first war patrol on 23 December 1943. A stop was made at Midway Island on the 27th for fuel, and then on to the patrol area in the East China Sea in the vicinity of Formosa.
On 22 January 1944, one year to the day after the start of construction on the ship, the Archerfish sank her first ship. The victim was a 9,000-ton passenger-freighter, which was hit by the only torpedo fired during a night radar attack on the surface.
After attacking and damaging two additional ships, the 53 day first patrol ended at Midway on 15 February 1944. The combat insignia was awarded for this patrol. Submarine Division 61 accomplished the refit.
On 16 March, Archerfish stood out of Midway on her second war patrol, still under the command of LCDR Kehl. The patrol area was in the vicinity of Palau Islands. No Japanese targets were encountered during the 42-day patrol. A stop was made at Johnson Island for fuel, and ended at Pearl Harbor on 27 April. The Submarine Base did the refit.
On 18 May 1944, G.W. Kehl, now Commander, USN, was relieved of command by LCDR W.H. Wright, USN.
The third war patrol commenced upon departure from Pearl Harbor on 28 May 1944, a stop for fuel was made at Midway and the area for patrol was in the vicinity of the Bonin Islands.
Lifeguard services were performed on 16 June 1944, for our carrier based planes. On 28 June, off Iwo Jima, Archerfish carried out a daylight underwater approach and periscope attack on an 1,400-ton coast defense vessel. The CD-24 was sunk as the result of two hits from two torpedoes fired. In the same vicinity, on 2 July 1944, two ships were hit with torpedoes during a daylight underwater approach and periscope attack. One, a 10,000-ton transport, was hit with four of the six torpedoes fired. The second, a 2,000-ton (probable) cargo ship, was hit with the single torpedo fired. Enemy countermeasures prevented observation of the victims and as a result only damage instead of sinking is claimed.
On 4 July 1944, a Navy fighter pilot was picked up after his plane was shot down. On the same day, while on the surface looking for downed pilots, a Japanese plane strafed Archerfish but caused no damage. Two days later a Japanese survivor from a sunken patrol boat was recovered.
The third patrol ended at Midway Island on 15 July, after 48 days at sea. The combat insignia was awarded. While alongside U.S.S. Proteus (AS-19), Submarine Division 201 made the refit.
The fourth war patrol, still under the command of LCDR Wright, began on 7 August. It was in the Empire area off Kyushu. A daylight gun attack damaged a 250-ton patrol boat on 13 August. On the return a stop was made at Midway and the patrol ended after 53 days, on 29 September 1944, at Pearl Harbor.
Now-Commander W.H. Wright, USN, was relieved as Commanding Officer on 29 September 1944, by CDR. Joseph F. Enright, USN.
The fifth war patrol of the Archerfish started at Pearl Harbor on 30 October 1944. A brief stop was made at Saipan for voyage repairs from nine until eleven November. The patrol area was off the Empire, South of Honshu, and was principally to render life guard services to the first B-29 bombing of the Japanese Home Islands.
On the evening of 28 November 1944, a large aircraft carrier, screened by four escorts, was sighted leaving Tokyo Bay. After a dogged six and one-half hour surface pursuit of the elusive, high speed target, a position ahead of the carrier was obtained when the formation zigged. A dive was made, and six torpedoes hit out of six fired hit the target. Moments later, a great glowing ball of fire climbed up the Japanese ship's side, and the Americans soon heard a series of tremendous explosions while the enemy vessel disintegrated. Not until after the end of the war did the Americans learn that Archerfish had sunk the 59,000-ton* Japanese aircraft carrier Shinano, the largest man-of-war sunk by any submarine. The Presidential Unit Citation was later awarded to the Archerfish for this action.
The patrol ended, after 48 days on station, at Guam on 15 December 1944; Submarine Division 102 accomplished the refit. The officers and crew of Archerfish spent Christmas 1944, at the rest and recuperation camp, Camp Dealey, named for the outstanding skipper of the lost USS Harder (SS-257). The combat insignia was awarded for this patrol.
The sixth war patrol departed Guam on 10 January 1945. CDR Enright was in command of a three boat Wolfpack nicknamed "Joe's Jugheads". The Wolfpack included Archerfish, Batfish and Blackfish. The patrol area was in the waters of the South China Sea and in the Luzon Straits. On 14 February, eight torpedoes were fired at an unidentified target during a night surface attack using the radar. One hit was heard and resulted in a claim of damage to the vessel. (Note: Archer-Fish's Patrol Report documents sinking of a 1,100 ton Japanese Submarine. Recent interviews with Crew Members indicate that they believe they sank a Japanese Sub. A torpedo hit and subsequent breaking up noises were heard aboard Archerfish. The kill could not be verified and was denied following the War.) The patrol terminated on 3 March, three days earlier than scheduled, due to bow plane problems. She arrived in Pearl Harbor after 48 days. A fuel stop was made in Saipan en route Pearl. The combat insignia was awarded for this patrol.
The period 13 March 1945, through 14 June 1945, was spent undergoing overhaul and dry docking at Hunters Point Naval Shipyard, San Francisco, California. She was underway on 14 June 1945, for Oahu. She arrived at Pearl Harbor on 22 June and commenced voyage repairs and training exercises.
The seventh war patrol, CDR. Enright still commanding, started from Pearl Harbor on 10 July 1945. A fueling stop was made at Saipan and the assigned patrol area was off the east coast of Honshu and south coast of Hokkaido, the Japanese home islands.
Lifeguard services were provided for B-29's and carrier based aircraft striking the Empire. At the "Cease Fire" order was received on 14 August 1945, Archerfish was off Hokkaido with Erimo Saki, the southern tip of the island, in sight.
On 31 August 1945, Archerfish was one of 12 United States submarines that entered Tokyo Bay and moored alongside the tender, USS Proteus (AS-19), near the Yokosuka Navy Yard. After the Japanese surrender ceremony aboard the USS Missouri (BB-63) on 2 September 1945, Archerfish departed Tokyo Bay for Pearl Harbor. The last patrol lasted 59 days.
In the seven war patrols Archerfish steamed 75,000 miles and made 908 dives. Credit was given for two ships totaling 81,050 tons of enemy shipping were sunk or damaged. One flyer was rescued during the third patrol and The Presidential Unit Citation was awarded for the successful attack on Shinano during the fifth patrol. The combat insignia was awarded for patrols three, five, and six. Archerfish received seven battle stars for her World War II service.
---
Number of
Patrol
Number and type of ship sunk
Total tonnage of ships sunk
Number and type of ships damaged
Total tonnage of ships damaged
Number of Aviators rescued
1
1 passenger-freighter
9,000
3
1 coast defense vessel
1,400
1 transport
1 unknown
10,000
2,000
1
4
1 patrol boat
250
5
1 aircraft carrier
59,000*
6
1 submarine
1,100**
War Total
2
70,500*
3
12,250
1

* "Click" here to see Historical Note regarding SHINANO tonnage
** Sinking disallowed following the War
---
Upon arrival in Pearl Harbor on 12 September 1945, Archerfish was assigned to Submarine Squadron One for duty and training. CDR. J.F. Enright was relieved as Commanding Officer by CDR. W.S. Finn, USN, on 15 November 1945.
On 2 January 1946, Archerfish departed Pearl Harbor for Tiburon Bay, San Francisco, California. She arrived on 8 January 1946. The period 8 January to 13 March was spent with no operations, the boat undergoing a preinactivation overhaul by ship's force. On 13 March 1946 Archerfish went to San Francisco Naval Shipyard where she received a preinactivation yard overhaul.
On 15 May 1946, Archerfish was towed by an Army tug to Mare Island Naval Shipyard where the final stages of inactivation were performed. CDR. W.S. Finn was relieved as Commanding Officer by LCDR C.J. Beers, USN, on 16 May 1946.
She was turned over to the 19th Fleet and inactivation work was completed on 12 June 1946. Archerfish was decommissioned on this date and placed in an "out of commission in reserve" status as a unit of the Pacific Reserve Fleet, Mare Island Group, berthed in the Mare Island Naval Shipyard.
Korean War Era - 1950 to 1955
Archerfish underwent Quinquennial dry docking at Mare Island Naval Shipyard from 14 September 1950, through 3 October 1950. The vessel was returned to the permanent berthing area in the Mare Island Group on 3 October.
Group Pre-activation commenced on 7 January 1952, because of the necessity of augmenting the Fleet resulting from the communist invasion of South Korea. A restricted availability at Mare Island naval Shipyard was assigned from 18 January 1952, to 23 March 1952, for accomplishment of authorized alterations and repairs beyond Group capacity, and correction of defects detected during trials. The Prospective Commanding Officer, LCDR Maino des Granges, USN, reported on board on 4 February 1952.
Archerfish was again commissioned on 7 March 1952, accepted on 26 March 1952, and reported to Commander in Chief, U.S. Pacific Fleet and Commander Submarine Force, U.S. Pacific Fleet for duty on 26 March 1952.
A three-week shakedown training cruise under Commander Submarine Division 31 at San Diego, California commenced on 27 March 1952. A fire broke out in the maneuvering room on 28 March 1952, as the result of an explosion of the after distribution board breaker. Fortunately only minor personnel casualties were sustained, and after conducting preliminary repairs Archerfish returned to Mare Island Naval Shipyard under her own power for a restricted availability. This availability lasted from 1 April 1952, through 27 May 1952.
Following shakedown training on the West Coast, Archerfish transited the Panama Canal and on 3 July 1952 joined the U.S. Atlantic Fleet as a member of Submarine Squadron 12 at Key West, Florida.
On 21 July 1954, Lt. Stanley R. McCord relieved CDR Maino des Granges as Commanding Officer. In early 1955, Archerfish, made her first Gravity Survey, perhaps a precursor to her Operation Sea Scan assignment. The survey circled down to the Ascension Islands in the South Atlantic and returned to Key West. The southbound trip over the Equator was on the surface and the return crossing was under the Equator. (New Skipper Stan McCord was duly initiated into the Realm of King Neptune on the southbound crossing .) On return from the 55 day Cruise, Archerfish and Crew stopped for a Port Call in Trinidad.
While serving with Squadron Twelve, Archerfish and Crew visited such places as Santiago and Guantanamo Bay, Cuba; Port-au-Prince, Haiti; San Juan, Puerto Rico; and Trinidad, British West Indies.
On 23 April 1955, LCDR John G. Now, relieved Lt. Stan McCord of command. Archerfish departed Key West on 25 April 1955, and proceeded to the Philadelphia Naval Shipyard for decommissioning. After completing her inactivation overhaul, Archerfish was towed to New London, Connecticut, and was decommissioned on 21 October 1955.
Hydrographic Research - Key West - 1957 to 1960
In July of 1957, Archerfish was reactivated in New London and was placed in commission on 1 August 1957. LCDR C.E. Beck, USN, was the Commanding Officer. Again, the ship reported to Submarine Squadron Twelve in Key West, Florida.
On 13 January 1958, Archerfish set sail for an extended cruise in the waters off South America working under the technical supervision of the Navy Hydrographic Office. During this cruise she visited Recife, Brazil and Trinidad, British West Indies. Upon completion of her mission, she provided services for the Fleet Training Commands at Key West and Guantanamo Bay, Cuba.
On 5 September 1959, LCDR William (n) Evans, USN, relieved LCDR C.E. Beck as Commanding Officer. On 2 October 1959, CDR George F. Bond and ENC(SS) Cyril J. Tuckfield made their world record buoyant free ascent from Archerfish from a depth of 306 feet off Key West, Florida.
Operation Sea Scan - 1960 to 1968
The beginning of 1960, brought several changes to Archerfish. She was chosen to make a two year hydrographic survey called "Operation Sea Scan," a scientific study of marine weather conditions, water composition, ocean depths, and temperature ranges. In January 1960, she entered the Philadelphia Naval Shipyard for a restricted availability and was designated an auxiliary submarine (AGSS) on 22 January 1960. On 4 March 1960, LCDR Kenneth (n) Woods assumed command.
She sailed from the Shipyard on 5 May and arrived at the submarine base in New London on 8 May 1960. All required sea trials were conducted while in transit. Archerfish became a unit of Submarine Development Group Two on arrival. A ten day period of upkeep and refresher training was carried out before commencing Phase I of "Operation Sea Scan" on 18 May 1960.
During Phase I, Archerfish visited Portsmouth, England; Hammerfest, Norway; Bergen, Norway; Faslane, Scotland; Julianehab, Thule, and Godthaab, Greenland; Halifax, Nova Scotia; and Belfast, Ireland. Phase I ended in New London, Connecticut on 3 December 1960. In the duration of seven months Archerfish crossed the Atlantic four times, made sixteen crossings of the Arctic Circle, became the first submarine to visit the ports of Godthaab and Julianehab, and the first to cruise in Hudson Bay and Foxe Basin.
After a six-week upkeep at New London, Archerfish departed on 20 January 1961, for the Pacific and Phase II of "Operation Sea Scan." En route, near the Puerto Rico Trench shortly before arriving in the Caribbean Archerfish recorder the deepest spot in the Atlantic Ocean. The official depth is listed in The World Almanac as 28,374 feet. Archerfish rendered services to the Royal Netherlands Navy at Curacao, thereby becoming the first U.S. submarine to visit the Island of Bonaire, also in the Netherlands Antilles.
On 6 February, Archerfish transited the Panama Canal. Following visits to Balboa, Canal Zone and San Diego, California, Archerfish arrived in Pear Harbor on 7 March and joined Submarine Squadron One.
Archerfish departed Pearl Harbor on 27 March 1961, for Phase Two of "Operation Sea Scan." Serving as a unit of the U.S. Seventh Fleet, she visited Yokosuka, and Hakodate Japan, Hong Kong; Subic Bay, Republic of the Philippines; Bangkok, Thailand; Penang, Malaya; Colombo, Ceylon; Fremantle, Western Australia.
In the course of her travels during Phase II, Archerfish was host to many military and civilian dignitaries; including the Crown Prince of Thailand, the Chief Minister of Penang, the Acting Captain of the Royal Ceylonese Navy, the U.S. Ambassador to Ceylon, the Mayor of Fremantle and the Chief Justice of Western Australia.
The 1961, holiday season was spent alongside at Yokosuka, Japan.
Phase II continued during the early months of 1962, with operations in the Western Pacific area and port calls at Sasebo, Japan; Guam, M.I.; and Cebu City, Philippine Islands. In early March Phase II was completed, and the ship went on to Pago Pago, Samoa; thence to Pearl Harbor. She steamed in flying a sixty foot "Homeward Bound" pennant to show that the ship and crew had operated overseas continuously for more than a year.
On 27 April 1962, Archerfish entered the San Francisco Naval Shipyard at Mare Island for overhaul. During the yard period, LCDR Jack N. Lyman relieved LCDR Woods as Commanding Officer on 8 September 1962. The overhaul was completed on 22 September and the ship departed for a two-week post-overhaul upkeep at San Diego.
In early October, Phase III of "Operation Sea Scan" was begun in the Eastern Pacific area with port calls in Pearl Harbor and Midway. Christmas leave and upkeep were spent in San Diego. Departing San Diego on 10 January 1963, Archerfish ran via Pearl Harbor to Yokosuka, Japan, where she underwent a three-week upkeep period. Following two and one-half months of operations, she returned to San Francisco in mid-April, followed by a visit to Pearl Harbor for a two-week upkeep period in mid-May. Late May and most of June were spent surveying off the northwest coast of the United States, with port calls in Portland, Oregon; Seattle, Washington; and Vancouver, British Columbia.
Archerfish was back in Yokosuka for interim dry docking in late July 1963, and the first week in August. This was followed by three months of continuous surveying in the mid-Pacific. This period was broken only by short fueling stops and upkeep periods in Midway and Pearl Harbor.
LCDR Thomas R. Eagye, II, USN, relieved now-Commander Jack N. Lyman, USN, on 19 November 1963, while the ship was moored at Yokosuka, Japan. Archerfish departed on 25 November for an extended cruise to the outhern hemisphere, crossing the line on 6 December where 49 "pollywags" became "shellbacks" in the traditional ceremony.
In mid-December the ship arrived in Australia for a three-week holiday in Newcastle and Sydney. During the visit Archerfish was visited by 44,000 Australians, and made four short cruises with newsmen, friends, and VIP's, including the Lord Mayors of both Sydney and Newcastle, and the American Consul General in Sydney.
From Sydney, Archerfish traveled to Guam for a two-week upkeep in late January 1964. After a fuel stop in Kwajalein in February, she arrived in Pearl Harbor on 5 March for a three-week upkeep. Departing Pearl Harbor on 30 March, Archerfish continued operations in the Eastern Pacific, visiting San Francisco in April and Vancouver, British Columbia in early May. The first two weeks of June were spent conducting upkeep in Pearl Harbor.
Archerfish left Pearl Harbor on 17 June to begin surveys in the Eastern Pacific. Port visits were made to Seattle and Olympia, Washington in July, and to Portland, Oregon in August. She returned to Pearl Harbor on 19 August 1964, for a three-week upkeep and dry docking, followed by a cruise to the South Pacific.
Leaving Pearl Harbor on 9 September, Archerfish sailed for the Fiji Islands. The ship stopped for a weekend recreational visit in Suva, where the ship was greeted by thousands of Fijians. Upon departure, Archerfish made a demonstration dive in Suva Harbor.
After a direct transit, Archerfish arrived in Auckland, New Zealand for an eleven-day visit. Three demonstration cruises were made for members of the news media, VIP's, and friends. The last port in the South Pacific was Wellington, reached on 7 October after a two-day trip down the East Coast of New Zealand's North Island. In Wellington, Archerfish again conducted three guest cruises, and on one of these became the first submarine to dive in Port Nicholson (Wellington Harbor). During the same dive, the ship deliberately bottomed. Approximately 15,000 New Zealander's visited the ship during the two port visits.
Archerfish took departure from Wellington on 19 October 1964, and arrived in Yokosuka, Japan on 6 November for a three-week upkeep. LCDR Gordon W. Enquist relieved LCDR Eagye as Commanding Officer on 24 November 1964, while the ship was moored at Yokosuka.
On 27 November 1964, Archerfish departed Yokosuka. Arriving in Guam on 16 December for a fuel stop, Archerfish left Guam on 18 December to continue survey operations in the Caroline Islands area. On 30-31 December, she made a 25-hour full power run to Guam to transfer a seriously ill crew member to the Naval Hospital. After spending New Year's Eve in Guam, Archerfish transited via the San Bernardino Strait to Subic Bay, Philippine Islands, where she started 1965 with a two week upkeep.
During the next three years, Archerfish and Crew logged thousands of miles conducting Sea Scan Operations in the Central, South, Western and Eastern Pacific. Early in this period, on November 16, 1965, LCDR Robert B. McComb assumed command of Archerfish from LCDR Gordon W. Enquist, while briefly at Pearl Harbor.
May through October 1966 was spent conducting "Special Operations" out of Yokosuka, Japan. On July 1, 1967, home port changed from Pearl Harbor to San Diego and home yard changed to Mare Island. Archerfish began the eastward track that would end Phase III of Sea Scan and begin Phase IV.
Phase III of Operation Sea Scan was officially completed on July 24, 1967, with the sighting of the U.S. coastline off the Washington Coast.. This phase required almost five years of survey work. The next day a survey of the west coast of North America was started. This survey would become the final phase of Sea Scan, Phase IV. On August 12, 1967, Archerfish was assigned to Submarine Development Group One.
Late August and early September of 1967 found Archerfish visiting Portland, Oregon. The ten day visit included a change of Command Ceremony broadcast on local TV. LCDR John Paul Wood replaced LCDR "Scotty" McComb, Portland "Native Son" as Commanding Officer on September 1, 1967.
Phase IV of Sea Scan officially ended on October 14, 1967. Archerfish reported to her new Home Port in San Diego on October 15, 1967. Archefish and her Crew spent Christmas of 1967 in Acapulco, Mexico and New Year's 1968 in Mazatlan, Mexico. Her last port of call was Avalon, Catalina Island, California in April 1968.
The years 1965 to 1968, included Ports of Call at San Francisco; San Diego; Pearl Harbor; Midway Island; Yokosuka, Japan; Portland, Oregon; Seattle; Vancouver, B.C., Canada; Newcastle, Australia; Sydney, Australia; Apra, Guam; Kwajalein Island; Olympia, WA; Suva, Fiji; Auckland, New Zealand; Wellington, New Zealand; Subic Bay, R.P.I.; Hong Kong, B.C.C.; Bremerton, WA; Puget Sound, WA ; Bangor, WA; Mazatlan, Mexico; Acapulco, Mexico; and Kailua Kona, HI. Several ports included multiple visits.
In early 1968, she was declared unfit for further naval service. Archerfish was decommissioned and struck from the Navy list on 1 May 1968. She was sunk as a target by U.S.S. Snook (SSN-592) off the California coast 17 October 1968. A lousy ending!
A unique feature of "Operation Sea Scan" was that the ship was manned by bachelor volunteers. This was considered a necessary requirement because of the extended periods away from home-port and the fact that Archerfish spent an average of 65% of her time underway.
(Compiled from various sources by K.C. Henry. Notes added by G.L. Cornelison. Copyright © 2000 - USSARCHERFISH.COM)
There are several sources listing the tonnage of SHINANO. These range from 59,000 tons to 72,000 tons. The following information obtained from the Forward and Prologue of Captain Enright's book, SHINANO! The Sinking of Japan's Secret Supership, clarifies this confusion.
The Japanese Empire had plans to build three huge battleships: YAMATO, scheduled for completion on December 16, 1941; MUSASHI, scheduled for completion on August 5, 1942: and SHINANO, which was converted to an aircraft carrier and initially scheduled for completion in January 1945. The conversion was primarily caused due to losses of Japanese Carrier Forces at the battles of Midway and the Coral Sea.
The conversion plans of SHINANO placed a heavy emphasis on armor. This armor included "large bulges, or 'blisters', below the waterline - like those on YAMATO and MUSAHI". Additionally the flight decks and hanger decks all had additional armor to protect from aerial attack. "The weight of steel installed for defensive purposes totaled 17,700 tons - about one-quarter of SHINANO's displacement and equal to the tonnage of many light cruisers." Many other modifications of machinery, tanks, armaments and armor brought "SHINANO's full-load displacement to 71,980 tons" which "topped by some 200 tons the original full-load displacements of her onetime sister ships, YAMATO and MUSASHI. Later, the battleships added 1,700 tons of armor. SHINANO was therefore the largest aircraft carrier ever built, and she retained that distinction until the commissioning of the nuclear-powered aircraft carrier U.S.S. ENTERPRISE in 1961." (Information and quoted material from SHINANO Prologue, pages 1 - 21.)
"SHINANO was the largest warship in history to be sunk by a submarine, a truly incredible exploit. In terms of tonnage, ARCHER-FISH's sinking of SHINANO was the most productive war patrol of the 1,682 undertaken by U.S. submarines during World War II. In awarding the Navy Cross to Commander Enright, Secretary of the Navy James Forrestal credited ARCHER-FISH with the sinking of a 72,000-ton Japanese aircraft carrier." (Quote from the Forward of SHINANO, pages xiv - xv, written by Admiral Bernard A. Clarey, USN (ret).)

"Click" here to return to Summary of War Patrol Results


"Click" links below to view:
---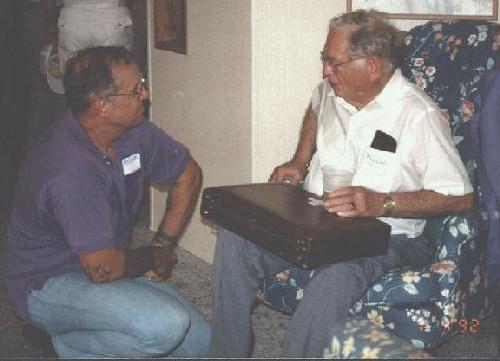 "Two 'old' Archerfish sailors lying to each other!" Seated is 'Hobo Joe of the Oh-One-Oh' - Joe Enright (of Shinano fame) and 'Pig Pen' Henry (of no fame).
The first (and last) time I had the privilege of talking with Joe Enright was July 4, 1992, at a Sharkhunters get together. To my amazement, while I was trying to think of something to say that wouldn't sound too stupid, Joe asked me, "Tell me Ken, was that damn dry dock in Yokosuka really as big as it looked through the periscope? " From then on I was at ease and we had a great visit........... Ken Henry (USS Archerfish, 15 DEC 59 to 10 FEB 62)
(Picture & captions from Ken Henry)



("click" on pictures to see larger image)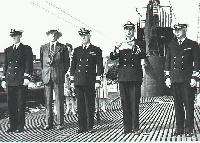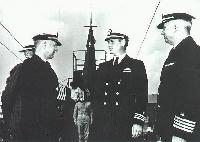 "LCDR Joe Enright, first commanding officer of the U.S.S. DACE (SS-247) reads his orders. July 23, 1943."
( The gentleman in the pin stripe suit and hat is L.Y. Spear, President of Electric Boat Co., 1942-1947.
A Sub Tender, the USS L.Y. SPEAR (AS-36) was later named in his honor.)
---
"Click" below:


Archer-Fish or ARCHERFISH: Why two versions of the same name? Following commissioning in 1943, the Crew of the new SS311, officially named USS ARCHERFISH was unofficially renamed USS Archer-Fish by the Crew. She carried that name throughout the War until She was decommissioned in 1946. When the USS ARCHERFISH was recommissioned in 1952, and throughout the remainder of Her Naval Service, ending in 1968, She was know by the un-hyphenated version of Her name. Her successor, USS ARCHERFISH (SSN-678) also used the un-hyphenated version. The name Archer-Fish was used by a special Boat and a special Crew during a special era..........
(Recent information suggests that the Boat may have, in fact, officially been named Archer-Fish but that a clerical error or modification may have dropped the hyphen. Archer-Fish's Launch Tag does not include the hyphen. Various official documents do not have Her name hyphenated but all or most documents orginated by the Boat are hyphenated. The Crew has always told the story of how Archer-Fish "got Her hyphen" and prefers to hold to that version. Whichever, we may never know with absolute certainty but it makes a nice story.......)
ARCHER-FISH WWII Crew Reunion
USS Archer-Fish (SS-311) Reunion was held on Sept 11 to 15, 2000, at the Radisson Hotel, New London, CT.
"Click" on image below to view larger picture.
The USS FLASHER (SS-249) National Submarine Memorial, Groton, Connecticut

Front Row, L to R: Doc Carter, Judd Dygert, Bernie Gibbons, Eddie Grandin, Walt Schonborg
Back Row, L to R: Unk (friend of Bill Cassady, Bill Cassady, Carl Wilken, Bob Fuller,
Dusty Lighter, Dick Scanlan, Charlie Wells

(Carl Wilken and Charlie Wells made all 7 War Patrols on Archer-Fish.
Others in the group made from 2 to 5 Patrols.)




For Information Contact
Leo A. (Doc) Carter
1835 S. Atlantic Ave. #603
Cocoa Beach, FL 32931
(321) 868 4423
E-mail:
Doc Carter
---
ARCHER-FISH's WWII History on the Internet:
(Hit the "Back Arrow" on your browser to return to this page after viewing the linked web site.)

Archer-Fish WW II History & Pictures Department of the Navy - Naval Historical Center, Washington DC

Shinano WWII History & Pictures Department of the Navy - Naval Historical Center, Washington DC

"Joe's Jugheads" Archer-Fish leads 3 sub Wolfpack in So. China Sea & Luzon Straits during her 6th War Patrol

Lifeguard Duty - Iwo Jima * Archer-Fish rescues downed pilot while on Lifeguard Station near Iwo Jima

Archer-Fish in Tokyo Bay **Archer-Fish is part of the Allied Fleet in Tokyo Bay for the Japanese Surrender

Captain Joseph F. Enright, Commanding Officer USS Archer-Fish **Bio and pictures of Capt. Joseph Enright

US Navy Submarines: 1940-1945 - Archer-Fish (SS-311) Information and pictures of Archer-Fish in WWII

* There are conflicting dates regarding the rescue of Ensign Johnson cited in several different sources. I asked "Doc" Carter, Archer-Fish Crew member in WWII, to help with clarifying the date:
"It was Patrol #3 NOT #6 that Ensign Johnson (RADM (Ret.)) was rescued. Patrol #6 started in early January 1945, we sunk a Jap sub - lots of controversy on this for a later story - had bow plane casting damage and rotated through Pearl to Hunters Point for overhaul. I've got all the dates, patrol reports, etc. for the 6th and 7th runs but off the top of my head I think we left Pearl late in June, stopped at Siapan, and wound up the war off Sagami Wan, went in with the invasion fleet and right now, I'm looking at a group shot of the crew with the battle flag dated 2 September 1945. This battle flag is somewhat different than the one on the web page and currently Carl Wilken of Sandusky, OH has it in his possession. We take pics at every reunion trying to line up the crew as in the original but there are a hell of a lot of blank spaces now. I am in touch with CDR Gene Bowman who is a close friend of RADM Johnson and he tells me that Johnson is sharp as a tack but somewhat frail. That description fits Capt. Enright also. Let me know if this helps. I can always dig out the information.......Doc"

(Doc Carter served on Archer-Fish in 1945/46, making Patrols # 6 & #7. Following is his reply to my inquiry regarding his Archer-Fish service:)
" I served on the ARCHER-FISH 1-2-45 to 6-15-46. I put her out of commission the first time. I was lucky with the A-FISH. Late in 1944 the GROWLER came alongside the SPERRY for refit and their corpsman was transferred and I believe disqualified, and Tommy Thompson and I were up to catch the next boat. We flipped a coin and Tommy won the toss. Shortly after that the GROWLER was lost. I have dropped a couple of tears in my brew over Tommy. We all came out of sub school together, attached to SubRon 10 (Div's 101 and 102). Scotty Prothero was the senior and caught the PETO and then Tommy and myself with equal seniority. I could type and had operating room experience so Dr. Irwin (CDR, MC, USNR) was happy to keep me aboard for a few extra weeks. I think I told you about Capt. Joe throwing CPhM Hughes off the boat (Archer-Fish) for requesting to marry an oriental in Honolulu. Hell, if Hughes hadn't done that I might have sat the war out on the SPERRY (SubDiv 102). Doc"
** See Archer-Fish in Tokyo Bay and Captain Joseph F. Enright, Commanding Officer USS Archer-Fish links above for information and pictures that Doc refers to in his comments.
---
War Patrol #5 Sailing List
Crewmembers during Fifth War Patrol, 11NOV44 to 15DEC44,
when IJN SHINANO was sunk.

Eternal Patrol

John C. Adams RT1c

John K. Andrews LTJG

John F. August MoMM3c

Willie B. Baird EM2c

Joseph J. Baroody SC2c

Harvey B. Barton EM1c

Robert C. Becker TM3c

Kopel S. Biars RM3c

Sigmund A. Bobczynski LCDR - XO

Joseph J. Bosza LTJG

James C. Bovard S2c

Paul T. Brown F1c

William A. Brown StM1c

Finley C.M. Buntain CTM

Davis E. Bunting LT

James A. Burke MoMM2c

Eugene E. Carnahan CY

Thomas H. Carnifax, Jr. EM2c

John J. Cichon CMoMM

Gerald J. Conk EM2c

Richard M. Cousins RT1c

Romolo Cousins LT

Thomas E. Cousins CEM

Robert C. Craft QM2c

Gordon E. Crosby, Jr. LTJG

Donald A. Deiss S1c

Ben H. DeSola EM2c

James C. Dolan TM3c

William D. Dretke S1c

Justin C. Dygert LTJG

Joseph F. Enright CDR - CO

Garland T. Ford CGM

John J. Freepartner S1c

Marteen W. Fuller TM3c

William M. Fuller S1c

Bernard T. Gibbons MoMM3c

Albert C. Gravatt MoMM3c

John P. Healey Bkr1c

Lambert D. Hoffman CMoMM - COB

William D. Hughes CPhM

Edward P. Keast SC1c

Richard A. Kenney FCS1c

Dewight F. Kramer EM3c

Gerald A. Lefebvre RM2c

Hershel A. Lighter CMoMM

Robert F. Lipparcher RM2c

Ernest H. Lubeck MoMM2c

William A. Mackin Y2c

Edward M. Mantzey QM1c

Paul G. McKearin TM3c

Charles McLaughlin, Jr. MoMM1c

Edward C. McMahon EM2c

Earl E. Myers RT2c

Billy G. Nelson TM3c

Olaf Noroos EM1c

Orville O. Peterson TM3c

Evan J. Pierce S1c

John F. Potanovic MoMM2c

Richard C. Scanlan RM2c

Levi F. Scott StM1c

Edwin A. Spriet F1c

Fredrick T. Steullet CMoMM

Irwin G. Stewart S1c

William L. Sykes QM1c

Richard E. Valentine EM2c

Anthony E. Verzwyvelt MoMM3c

Emory D. Ward GM3c

Charles N. Wells MoMM1c

Lowell E. Wells TM2c

Thomas W. Whalen MoMM1c

Wade L. Wharton BM1c

George D. Wheeler, Jr. TM3c

Robert White EM1c

Carl A. Wilken MoMM1c

Alfred I. Will MoMM2c

Norman J. Wilson FCS3c

Norman W. Winkle GM3c

Carl N. Yotter TM1c

Edward F. Zielinski TM1c

Henry J. Zych MoMM1c
---
"Click" the
back arrow
on your browser to return to the previous page.
Or "click" below:
Moonlight Serenade
Copyright © 1999 - 2008 GL Cornelison
Last revised: February 08, 2022.